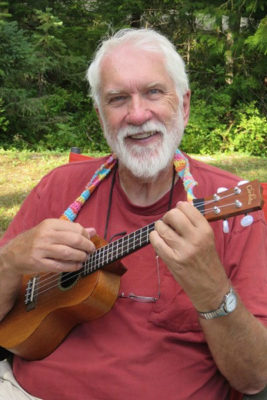 May 10, 1943  July 24, 2020
Born a 4th generation Californian and growing up in Beverly Hills, John used to jokingly describe himself as consistently downwardly mobile but no less happy for it.
His youthful interests became lifelong pursuits. He was drawn to science, particularly astronomy, reading, chess, music, sailing, and camping. He spent time working with his hands and exploring philosophy with his grandparents. It was also the beginnings of an enduring fascination with adventure and the South Pacific that began by sounding out the longest word he could find on the map on the wall  Kapingamarangi  which was eye-level for him at just the right age.
The following years included studying and working in engineering and then experimental psychology with rats, pigeons and turtles in California, Toronto, the United Kingdom, Mexico and Victoria. Along the way, he and his first partner Jeri Covay built a family, became deeply involved in the politics of social and environmental justice, travelled Europe and gathered more lifelong friends. His daughter Kathy was born in Toronto and Charley followed three years later in Brighton.
During his brief stint in Mexico City he miraculously found himself living next door to his best friend from childhood, Juan Bueno. They have been close friends ever since. Juan describes 12 year old John as a tall, lanky carefree kid with a gift for original thinking.
In 1973, his best friend Don Fernandez arranged for him to come to Vancouver Island on a six-week contract at Cedar Lodge, a school for children with learning disabilities. That contract turned into 10+ years and became a source of many more lifelong friendships. He had fallen in love with the Island, exploring it through sailing, camping, and tramping through the woods. It has been his chosen home ever since.
John later went into private practice, worked for Mental Health Centres on the Island and taught psychology at Vancouver Island University. He made time for travel, adventure and deep intercultural learnings with his spouse, Linda Hill; first to Micronesia (including a side trip to Kapingamarangi, the Island of his childhood imagination), and then to the Solomon Islands as CUSO volunteers.
These experiences became endless sources of stories, inspiration and even more friends. But home beckoned and he always came back to the Cowichan Valley, where he and Linda threw themselves into the issues that mattered most to them: diversity, inclusion, community, conservation, eco-psychology and the Earth Charter.
John had a deep sense of wonder with the natural world and an endless curiosity. He took great joy in learning and sharing his wonder with others, (especially his grandchildren) through teaching and mentorship. He appreciated the small and beautiful things in life; word-play, the smiles that appeared when he pulled out one of his tiny ukuleles and the pleasure of biting into a Pirate cookie, with the wind at your back as you're headed for harbour. His ever-growing family of choice was also a constant source of delight.
John always thought of himself as an exceptionally fortunate man for the life he lived. He spent his final months laughing, joking, and sharing stories throughout his adventure with cancer. He was filled with gratitude that he had a chance to connect with so many of the people he really loved.
As John said, "Family, friends and community are the best medicine". On July 24, as dawn broke and the finches began to sing, it was time for John to embark on his next journey. He was surrounded by his children, grandchildren and spouse, looking out onto Mount Prevost. His was a life well-lived. He left it a fortunate man and all of us a fortunate family.
John was very proud of his role as a founder of the Cowichan Land Trust. He saw the protection of natural areas as a gift to future generations. You are invited to make a contribution to CLT in lieu of flowers at www.cowichanlandtrust.ca
Online condolences may be offered at www.sandsduncan.ca
Friends and community groups are invited to celebrate his life through your own informal gatherings and waffle parties. If you let us know your plans via Sands, we can participate virtually, in person, or in spirit.