More than 95 people attended a special meeting of the Cowichan Valley Naturalists on January 14 for a discussion of the threat to the remaining old growth forests in the Walbran Valley.  While much of the Carmanah-Walbran ancient forest is protected, the central and upper Walbran Valley is still open to logging.  Ken Wu and T. J. Watts of the Ancient Forest Alliance showed slides of this beautiful area and talked about the ecological, economic, scientific and aesthetic benefits of preserving all the remaining ancient forest on southern Vancouver Island and especially this area.  The Cowichan Valley Naturalists' Society has written a detailed letter which can be downloaded by following this link.  We encourage you to write your own letter to government, newspapers, individuals, and other organizations.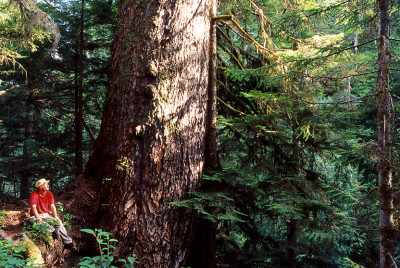 Here is the text of the letter:
Dear Honourable Steve Thomson (Minister of Forests, Lands and Natural Resources Operations), Chief Arliss Daniels, (Pacheedaht Nation) and Tom and Dick Jones (owners of Teal Jones),
Request for a joint meeting re our concerns about logging old growth forest in Central Walbran Valley.
The Cowichan Valley Naturalists' Society members have been exploring the natural history of Vancouver Island for many years. For millennia the land has been cared for by our aboriginal neighbours. We appreciate and honour that in visiting the Walbran area that we are in the traditional territory of the Pacheedaht nation. Most of our club members live in Cowichan Tribe's traditional territory and to travel to the Walbran we pass through the lands of the Cowichan Lake First Nations and the Dididaht First Nations. Old-growth forests are vital to First Nations traditional uses and spiritual practices.
We have been blessed with some of the best old growth temperate rain forests on earth in our Cowichan Valley Regional District. We wish these to be protected for all time. The Central Walbran has a unique assemblage of these old trees. Our members were active in the creation of the Carmanah/Walbran Provincial Park and are familiar with the history. We would like to clarify that we recognize forestry as a major part of our economy, local and provincial. We have family and friends who work in the industry. We wish to find a peaceful solution to protecting these ancient trees.
These ancient forests sequester carbon, sustain wildlife, provide habitat to endangered species, create tourism and recreational opportunities, supply clean water and provide homes to countless species. Old growth forests are able to provide climate stability. They regulate water services, an important consideration with the drier summers and wetter winters that have been occurring lately. These ancient forests are not replicated by the second-growth tree plantations that are being planted to replace them. It takes a minimum of 150 years to develop a good forest, not the 30 to 80 year cuts currently occurring on the BC coast. With the issue of climate change becoming more and more problematic having old growth forests is increasingly important since these forests ensure areas that will act as heat sinks in the hotter weather and sponges during the longer rainy seasons that are already occurring across Canada. (Mekis and Vincent, 2011).
Found in this area are a number of unique species that fall under the federally mandated Species at Risk Act including Northern Goshawks , Accipiter gentilis laingi (threatened, scheduled one), and Marbled Murrelets (threatened, scheduled one). The Walbran Valley was the first place in Canada where the nest of a Marbled Murrelet was discovered in 1990. In nearby Anderson Lake are found interesting piscovorous (fish eating) large rainbow trout. The kokanee population in Anderson Lake is also of interest and unusual for such a small lake. (Law, P. 1990. A Reconnaissance of Anderson Lake, Ministry of Environment, Fisheries Branch. Unpublished document). Research by entomologists: Claudia Copley, Dr. Zoe Lindo, and Dr. Neville Winchester, on the Carmanah and Walbran area has found that the assemblage of insects in ancient forests to be unique. A rare new species of mite has been found, named after the Walbran Valley, Metrioppia walbranensis, (Lindo, Z. 2015, The Canadian Entomologist 147: 553-563.) No doubt there is other rare flora and fauna still to be found.
Thousands of people have visited the Central Walbran Valley and many thousands more will come if the area is protected. The President of the Port Renfrew Chamber of Commerce states that these visitors have created a multimillion dollar economy for the coast between Port Renfrew and Tofino. This industry in the long term creates more economic value than the logging of old growth trees. Certainly the issue of jobs for loggers, truck drivers, etc. is a valid concern but could be addressed by investigating carbon credits, doing more value added wood work in BC and continuing to do sustainable logging of second growth trees. We are mindful that Teal Jones is a BC based company providing in BC Jobs, not shipping logs overseas and practicing sustainable logging in BC.
"The benefits of preservation in terms of increased recreational opportunities, non-timber forest products, and carbon sequestration and storage outweigh the costs in terms of lost producer surplus from timber harvesting (Connel, D.J., Saphiro, J. & Lavallee, L. (2015). Old-Growth Forest Values: A Case Study of the Ancient Cedars of British Columbia. )
We support the recent request from the Port Renfrew Chamber of Commerce to the BC government to:
Establish an immediate moratorium on planned logging in the unprotected Central Walbran Valley and areas adjacent to the park boundaries, with an intent to eventually legislate protection for the entire watershed.

Ensure sustainable, valued-added forestry in second-growth stands which now constitutes 90% of the productive forest lands on southern Vancouver Island.
We wish to reiterate that we are not anti-logging, but we are against logging old growth forests. Please protect these treasures for all time. We wish to request that a meeting be held between your three groups to work collaboratively and be part of a paradigm shift that supports ecological balance in our province.
We wish to meet with you as soon as possible to discuss our concerns. Once these old growth trees are cut they cannot be replaced. Our motto is: "As naturalists we speak for nature since it cannot speak for itself." We would very much appreciate the opportunity to speak with all of you and find a win-win situation for the trees and people.