Tribute for Kenneth Eric Marshall, 1930-2020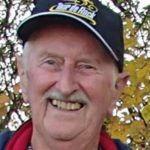 Eric was born in King's Lynn, Norfolk, England; earned a marine zoology degree from King's College, London; and worked as a librarian for Freshwater Biological Association on Windermere in the English Lake District.
Dorothy and Eric married in 1958. With daughters, Lynn and Karina, they moved to Winnipeg where son Ken was born. Eric built up the best marine science library in North America, at the University of Manitoba.
Eric and Dorothy retired to Cowichan Bay in 1996, where they volunteered with many organizations, especially the Cowichan Valley Naturalists Society.
---
Nature Cowichan is the voice of the Cowichan Valley Naturalists' Society.  Everyone is welcome at our monthly morning and evening meetings.
The Nature Cowichan Network is a coalition of organizations committed to protecting, enhancing, enjoying, and understanding the beauty and ecological richness of the Cowichan region.  We have come together to share resources, raise funds, and provide information to both residents and visitors.
If you share our love of this very special place, we encourage you to show it by donating to Nature Cowichan or by joining or volunteering with one of our member organizations.  Here are links to our members:
---
 The Nature Cowichan Network supports the Earth Charter

The Nature Cowichan website is operated on behalf of the community by volunteers from the Cowichan Valley Naturalists' Society and the other member organizations. 

Unless otherwise noted, all photographs on this website are ©copyright Heather Wade or other members of the Cowichan Valley Naturalists' Society.